Absolute App Labs - Connecting Your Offerings to the World with Android Apps!
Android has established itself as one of the most extensively used platforms. If you're running a business or have an app-based business idea, developing an Android App can prove to be an effective way of reaching out to a wider audience. However, it's essential to ensure that your Android App has an alluring design, smooth functionality, and an intuitive interface to attract customers. Achieving these qualities might require extensive knowledge and experience. And that's why it's crucial to seek the assistance of an expert to help you achieve your business goals.
Absolute App Labs is a leading Android app development company in Chennai. With years of experience in the field, we have assisted numerous businesses across various industries in creating an Android app for their business. Our team of experienced Android app developers in Chennai possesses technical expertise that will leave your audience awe-struck.
Android App Development Services We Offer
Android App Consultation
Gain clarity of mind with our professional consultation service. We provide expert guidance on the benefits of an Android app and if it is the right choice for your business growth and success. Make informed decisions and achieve your goals with our insights.
Custom Android App Development
We understand that each business has its own unique requirements. Our team of experienced Android app developers will work closely with you to create a custom Android app that aligns perfectly with your vision and objectives.
UI/UX Design
A great user interface and user experience are key to the success of any Android app. Our talented designers will ensure that your app not only looks stunning but is also intuitive and easy to navigate.
Native and Cross-Platform Development
Whether you prefer native Android app development or cross-platform solutions, our Android app developers in chennai, have the expertise to deliver high-quality apps that perform seamlessly across different devices and platforms.
Maintenance And Support
Once your app is deployed, we don't just leave you on your own. Our team is committed to providing ongoing maintenance and support to ensure that your app continues to run smoothly and stays up to date-with the latest technology.
Absolute App Labs: Creating Innovation For Every Platform!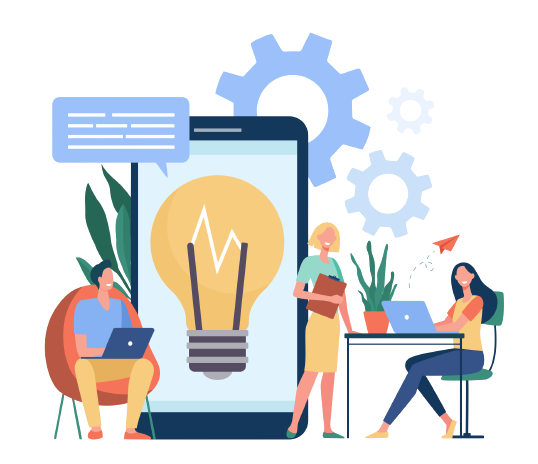 As a business owner, it's important to recognize that your potential customers nowadays have access to a wide range of devices such as smartphones, tablets, e-readers, and portable music players. Therefore, if you want to expand your reach with your customers, it's essential to make your app available on these platforms.
As a leading Android App development company in Chennai, we possess a wealth of experience in creating top-notch Android apps that are compatible with various devices, including smartphones, wearables, and tablets. With our expertise, you can rest assured that your app will be accessible to a larger audience, ultimately leading to increased user engagement and profitability.
Be it R&D, ML, Computer Vision, etc. You Name it and We Will Make it hAPPen. Let's Book Some Time and Discuss.
Why You Should Consider Developing An Android App For Your Business
With its expansive user base and adaptable nature, Android Apps present a significant chance for businesses to engage with potential clients and elevate a brand's triumph. There are several compelling reasons why you should consider developing an Android app for your business, and here are some of them:
Expansive User Base
Android dominates the global smartphone market, with millions of devices running on the platform. By creating an Android app, you gain access to this massive user base, increasing your potential customer reach and brand visibility.
Enhanced Accessibility
Android apps can be easily downloaded and installed from the Google Play Store, making them readily accessible to users. This convenience encourages potential customers to engage with your business on their mobile devices, driving higher user engagement and conversions.
Increased Brand Visibility
Having your business app listed on the Google Play Store gives your brand credibility and visibility. It's like having your own digital storefront in a bustling marketplace, attracting users searching for solutions your business offers.
Offline Functionality
Android apps can be designed to work offline or with limited connectivity, ensuring that users can access your content and services even in areas with poor internet access. This reliability can be a significant advantage in certain markets or industries.
Competitive Edge
Having a well-designed Android app can set you apart from competitors who may not yet have ventured into the mobile app space. It shows your commitment to innovation and customer-centric solutions.
Our Working Process
Understanding
Brainstorming
Fixing Project Timeline
App Design
Developing Builds
Q/A Testing
App Launch & Support
Transforming Industries With Our Android App Innovation
Healthcare
Manufacture
Education
Real-estate
Non-profit
IT
Retail
SaaS
Safety
E-commerce
Why Choose Absolute App Labs For Android App Development Services In Chennai?
Opting for Absolute App Labs means selecting an Android app development partner who surpasses the norm. Our focus is not solely on constructing apps, but on constructing experiences that will impress your target audience for a long time to come. Below are the factors that distinguish us as the leading Android app development company in Chennai:
Transparent Collaboration
Your App, Our Expertise - Contact Our Android App Developers In Chennai!
If you're seeking to enhance your business with stunning Android Apps, then you're in the right place! Our proficient Android App Developers at Absolute App Labs are fully equipped to transform your ideas into tangible applications. Regardless of your industry, be it e-commerce, healthcare, travel, or any other, our team has the knowledge and skills to create visually stunning apps that engage users and generate successful outcomes.
Plot No, 1095, 13th St, Z Block, Anna Nagar, Chennai 600040.