BigCommerce Development Company In Chennai
Absolute App Labs: Building Online Stores with a Difference!
BigCommerce, Big Results: Absolute App Labs Makes It Simple!
Selecting the right e-commerce platform is a critical aspect of running a successful online business. With a plethora of options available in the market, choosing the perfect one can be a daunting task. It is essential to select a platform that offers all the necessary features required to set up an online store hassle-free. BigCommerce, a SaaS e-commerce platform, is one of the best options available in the market. It is a user-friendly platform that comes with several features that make it an ideal choice for businesses of all sizes.
Despite its numerous features, setting up an online store on BigCommerce requires expertise to handle various operations efficiently. This is where our company, Absolute App Labs, comes in. We are a leading BigCommerce development company located in Chennai, and we specialize in helping businesses of all industries to set up their online store with the BigCommerce platform. Our team of experts has years of experience in BigCommerce development and can provide you with the necessary guidance to set up your online store successfully.
BigCommerce Development Services We Offer
BigCommerce Theme Development 
Are you on the hunt for top-notch themes to enhance your BigCommerce store? Look no further! Our team of dedicated BigCommerce developers in Chennai possesses the expertise to turn your vision into a stunning reality. Let us design a store that perfectly aligns with your unique preferences, creating a visually appealing and user-friendly online shopping experience. 
E-commerce Consultation for BigCommerce
You can rely on our seasoned e-commerce consultants to provide strategic guidance tailored to optimize BigCommerce's features in alignment with your unique business objectives. We are here to assist you in crafting a comprehensive e-commerce strategy, refining your marketing initiatives, and driving overall business growth on the BigCommerce platform.
BigCommerce App Development
Sometimes, the built-in features of BigCommerce may not fully meet your specific requirements. That's where our BigCommerce development experts come in. We specialize in crafting custom apps and plugins tailored to your needs, introducing new functionalities or customizing existing ones. Elevate your e-commerce capabilities to new heights with our personalized app development services.
BigCommerce Integration Services
Looking for customized services for your BigCommerce store? Your search ends here. With a wealth of experience in developing BigCommerce stores across various industries, we excel in seamlessly integrating a variety of technologies into your BigCommerce store. Whatever your store requires, we can seamlessly weave it into your e-commerce ecosystem, ensuring a cohesive and efficient operation.
BigCommerce Training and Support
Efficient training and robust support services are crucial for optimizing your business and team's utilization of BigCommerce. At Absolute App Labs, we offer comprehensive guidance, troubleshooting, and assistance to address any BigCommerce-related challenges. Our goal is to ensure a seamless and successful e-commerce operation for your business, empowering you to make the most of the powerful capabilities of BigCommerce.
Why A Business Should Choose BigCommerce
Scalability
BigCommerce is designed to scale with your business. Whether you're a small startup or a large enterprise, the platform can accommodate your growth. It offers various plans and features that can be adjusted as your business expands.
Built-in Features
BigCommerce comes with a range of built-in features, reducing the need for additional plugins or third-party integrations. These features include payment gateways, shipping options, inventory management, and more, streamlining the setup process for businesses.
Security
Security is a top priority for any online business. BigCommerce provides a secure and PCI DSS compliant platform, which means that it adheres to industry standards for protecting customer payment information. This can help build trust with customers and protect your business from potential security threats.
Payment Options
BigCommerce supports a wide range of payment gateways, giving businesses flexibility in accepting payments. Whether it's credit cards, digital wallets, or other online payment methods, BigCommerce can integrate with popular options.
SEO-Friendly
BigCommerce includes SEO features that can help improve the visibility of your online store in search engine results. This is essential for attracting organic traffic and reaching a broader audience.
Marketing Tools
The platform offers various integrations marketing tools like Google Ads, Klaviyo, Mailchimp, Bloomreach, Aicopywriter, etc. This enables businesses to implement effective marketing strategies to drive sales and customer engagement.
Our BigCommerce Development Process
Project Planning & Strategy
Store Setup & Configuration
Theme Customization
App Integrations
Training & Documentation
Store Launch and Monitoring
Ongoing Support and Maintenance
Transforming Industries Through Our BigCommerce Innovation
In order to be successful in online sales, it is crucial for a business to have a deep understanding of its customers. By understanding what your customers need and expect from your online store, you can customize and optimize your online store accordingly. As a leading BigCommerce development company in Chennai, we have worked with various clients, we possess the expertise to help you understand your customers' requirements.
Healthcare
Manufacture
Education
Real-estate
Non-profit
IT
Retail
SaaS
Safety
E-commerce
Absolute App Labs: Crafting BigCommerce Stores That Resonates With Customers
At Absolute App Labs, our focus is to provide your store with innovative solutions that go beyond just creating a user-centric design. We aim to provide your customers with a shopping experience that is tailored to their needs and preferences, ultimately driving more sales for your products. Our solutions are designed to enhance the overall customer journey and make your store stand out in the market.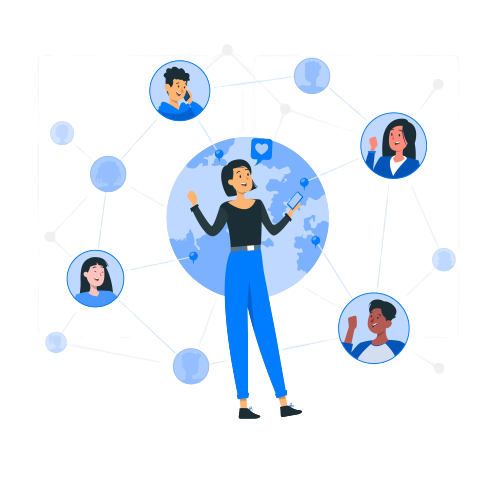 Why Choose Absolute App Labs As Your BigCommerce Development Agency
Holistic Customer-Centric Design
Beyond a mere user-centric design, we employ a holistic approach that centers on the entire customer journey. From the moment a customer lands on your platform to the completion of a purchase, our solutions are crafted to optimize every touchpoint, ensuring a cohesive and enjoyable experience that extends beyond just aesthetics.
Personalization for Enhanced Engagement
Recognizing the diverse preferences of your customer base, our solutions incorporate advanced personalization features. Through data-driven insights and analytics, we dynamically adapt the shopping experience, presenting customers with tailored recommendations, promotions, and content, thereby fostering deeper engagement and increasing the likelihood of conversion.
Market Standout Features
We don't just meet industry standards; we exceed them. Our solutions are equipped with market standout features that set your store apart from competitors. Whether it's advanced search functionalities, interactive product visualization, or seamless integration with emerging technologies, we ensure that your store remains at the forefront of innovation.
Strategic Sales Boost
Our focus extends beyond aesthetics to the ultimate goal — driving sales. Absolute App Labs implements strategic sales optimization techniques, leveraging data analytics and consumer behavior insights to enhance product discover-ability, streamline the purchase process, and maximize conversion rates.
Robust Security Measures
Security is paramount in the digital landscape. Absolute App Labs implements robust security measures to safeguard your customers' sensitive data. Our solutions comply with industry standards and regulations, providing a secure environment that fosters trust and confidence among your customer base.
Streamlined Checkout Processes
We understand the importance of a frictionless checkout process. Our solutions optimize the entire checkout journey, reducing cart abandonment rates and enhancing the overall conversion funnel. From intuitive form designs to secure payment gateways, we prioritize a hassle-free and efficient checkout experience.
Experience the Absolute BigCommerce Advantage With Absolute App Labs!
It's time to go beyond an e-commerce store, And we're here to achieve it for you! kickstart an online shopping experience that wows your customers with us.
Our Engagement Models
Similar to software solutions, there is no one-size-fits-all solution when it comes to development. But, we got your back. Choose the engagement model that suits your business needs and budget. 
Fixed Bid Model 
 The fixed bid model implies that the estimation of a software development project is determined in advance, including budget and time frame.
Time and Material Model
With our time and material billing structure, you'll only be charged for the exact amount of time and resources utilized for your project.
Hybrid Model
The hybrid billing model for software development combines both fixed and hourly rates to provide flexibility and cost-effectiveness.
Hire Our BigCommerce Developers In Chennai Today!
Are you ready to take your online store to the next level? Look no further! At Absolute App Labs, our team of BigCommerce development experts have the capability to create BigCommerce store for any product you sell! All you have to do is reach out to us.
Plot No, 1095, 13th St, Z Block, Anna Nagar, Chennai 600040.